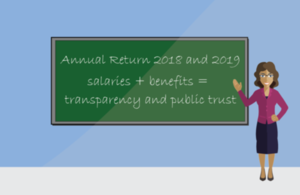 From the Charity Commission
all 2018 and 2019 annual return questions
Why we are asking about salaries and benefits in charities
Our research into public trust and confidence in charities shows that the public is concerned about high levels of pay in charities.
Because of this we will be asking charities to provide more information about salaries to increase accountability.
We will ask for a breakdown of salaries across income bands, and the amount of total employee benefits for the highest paid member of staff.
But, in response to concerns raised during our public consultation, we will not publish details of benefits given to the paid member of staff on the charity register.