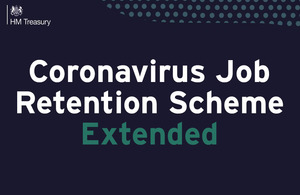 The new Job Support Scheme, which was due to start on Sunday 1 November, has now been postponed until the furlough scheme ends.
The Coronavirus Job Retention Scheme (CJRS), (Furlough), which was due to end on 31‌ October, will now be extended, with the UK government paying 80% of wages for the hours furloughed employees do not work, up to a cap of £2,500 for periods from 1 November.  Employers small or large, charitable or non-profit, are eligible for the extended Job Retention Scheme.
You will need to pay all employer National Insurance Contributions (NICs) and pension contributions. You can choose to top up your furloughed employees' wages beyond the 80% paid by the UK government for hours not worked, but you are not required to do so.
There will be no gap in support between the previously announced end date of CJRS and this extension.
Under the extended scheme, the cost for employers of retaining workers will be reduced compared to the original scheme, which was due to end on 31st October 2020. This means the extended furlough scheme is more generous for employers than it was in October.  ACAS also provides more details here

What you need to do now
Check if your employees are eligible for the scheme

here

Agree working hours with your employees, so they know if they are furloughed fully or part-time during November.

Keep the records that support the amount of CJRS grant you claim, in case HMRC need to check it.  You can view, print or download copies of your previously submitted claims by logging onto your CJRS service on GOV‌.UK.‌ 
Further help and advice can be found here